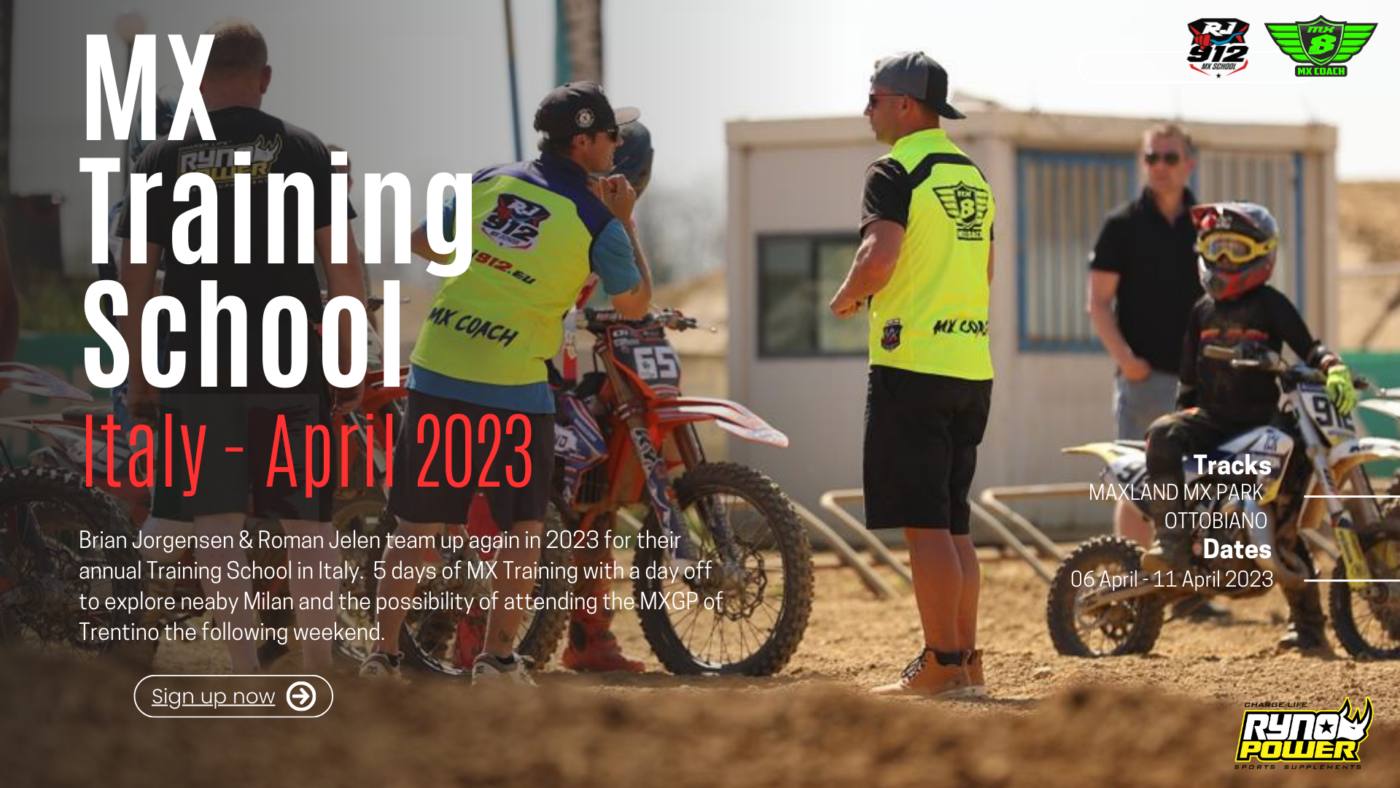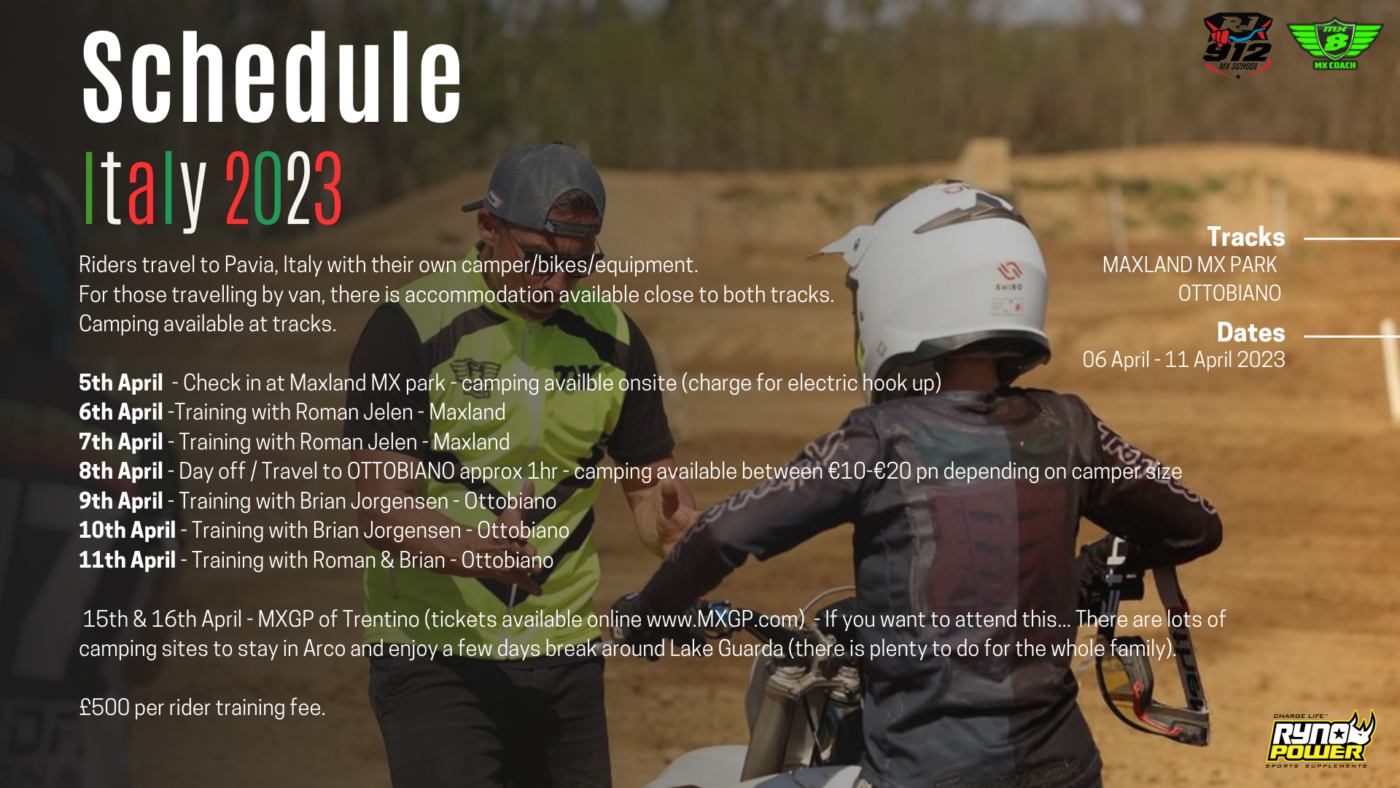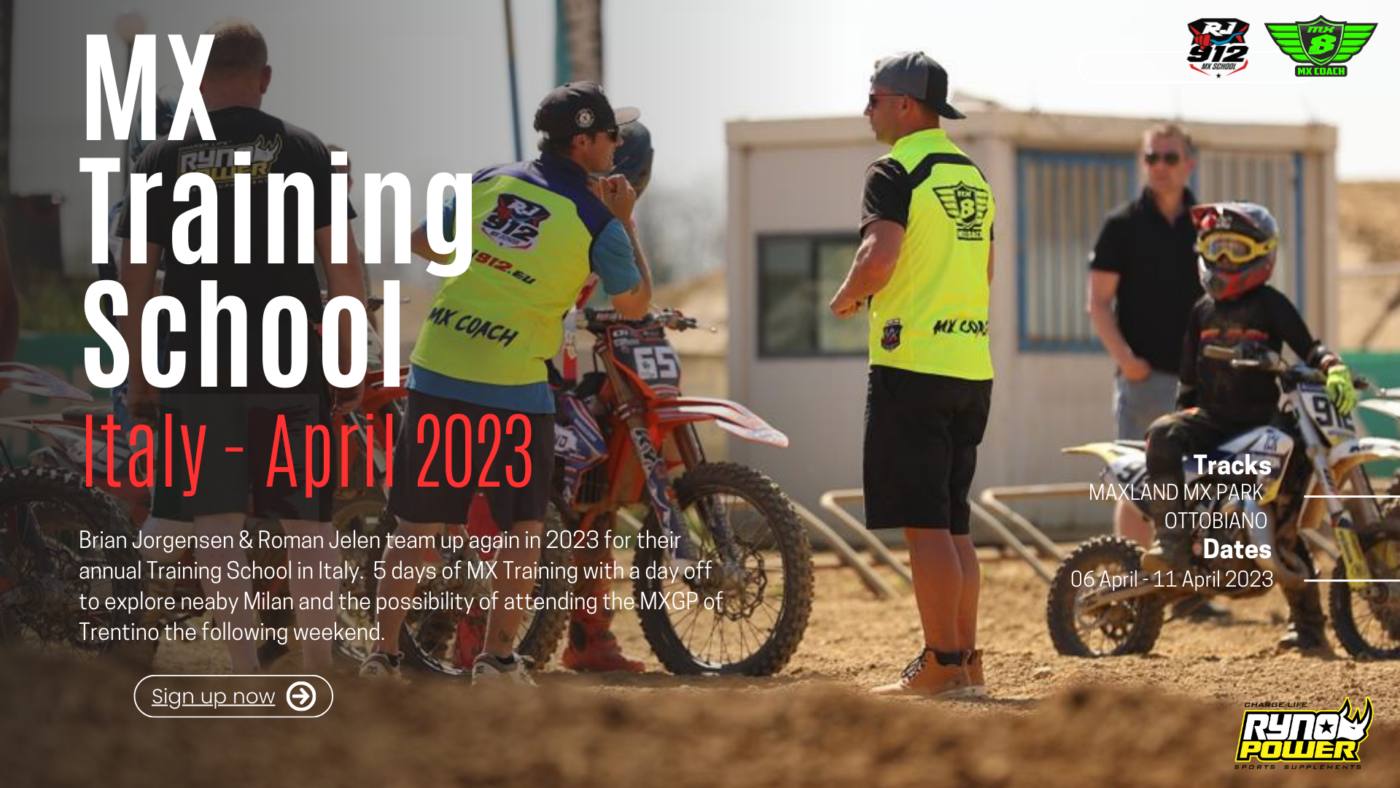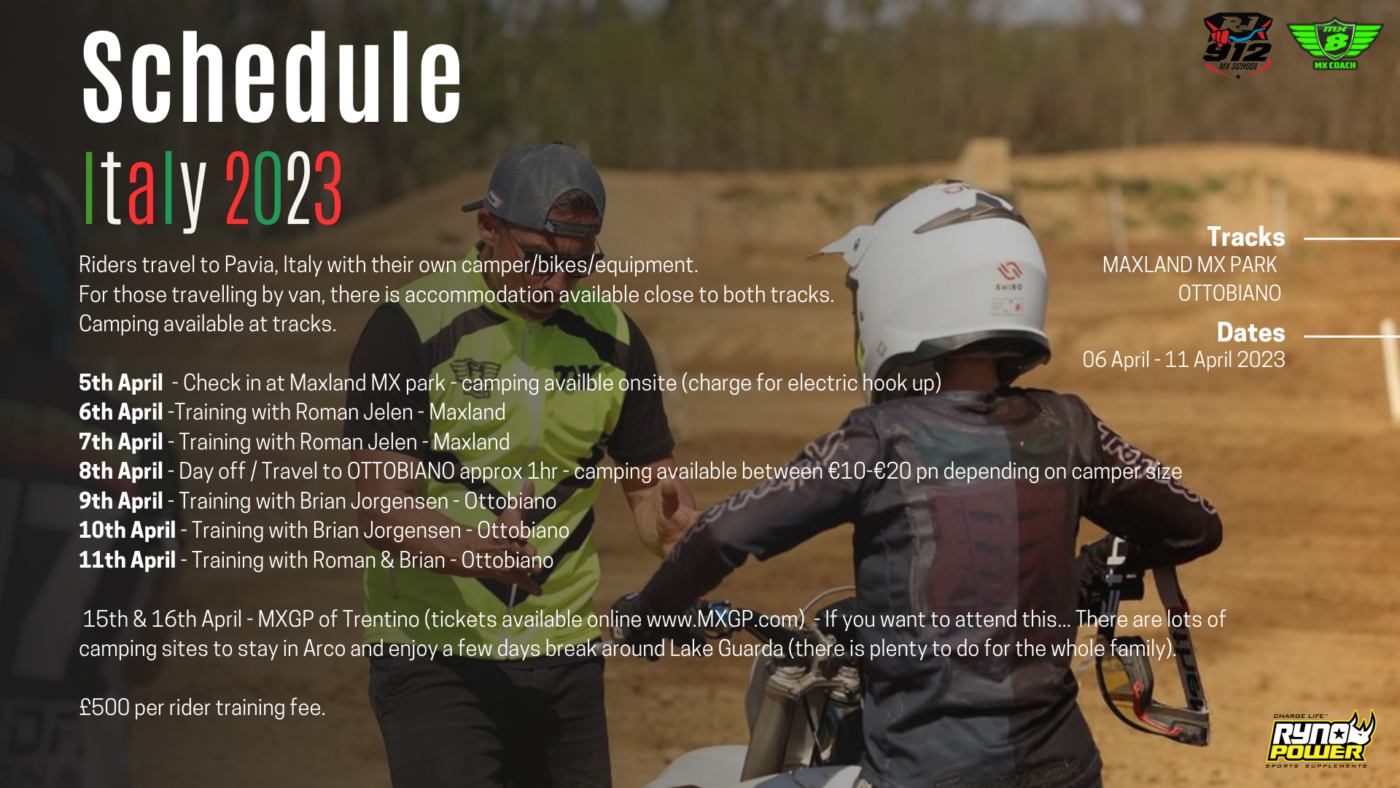 Taking place in the Easter holidays, this event will be run by Brian Jorgensen and Roman Jelen at MAX LAND RACEWAY PARK & Ottobiano in Italy. Great facilities with multiple tracks & onsite camping at the tracks. The MXGP of Trentino on the 15/16 April follows this school. 
SCHEDULE
5th April – Riders arrive at Maxland
6th April – Day 1 riding – Roman Jelen (Maxland)
7th April – Day 2 riding – Roman Jelen (Maxland)
8th April – Day 3 recuperation day – Travel to Ottobiano
9th April – Day 4 riding – Brian Jorgensen (Ottobiano)
10th April – Day 5 riding – Brian Jorgensen (Ottobiano)
11th April – Day 6 training – Brian & Roman (Ottobiano)
Riders are invited to attend from all over Europe to join in and develop their MX skill set in a relaxed, professional atmosphere that involves the whole family in this beautiful part of Italy. This is a Camp where riders can come to focus on improvement in grouped training set according to ability.
Brian Jorgensen has over 40 years of experience and is renowned for his calm and professional approach to coaching, ensuring all of his students have the opportunity to improve their technical skills.The coaching team with Roman Jelen are ready to help you gain as much as possible from this Camp.
Yamaha bLU cRU riders can also benefit from a 20% discount from the training fee to attend the course.
LOCATION – Via Statale Mantovana, 234,21, 27010 Camporinaldo PV, Italy
CHECK IN – Arrival will be on the 5/04/23 at Maxland MX Park. 
CAMPING – Camping is available at both tracks we will be using. At Maxland, payment is only if you require electric hook up. At Ottobiano it is between 10-20 euros per day for camping (inc electric) depending on the size of your camper.
ACCOMMODATION – For those travelling by van, there are hotels/b&b's close to each track, please ask for details.
COACHING – The days begin with a morning warm up and we will work on the track with groups according to abilitiy.
PHOTOGRAPHY – Photography packages by Roberto Sorrentino €25 
COST – The cost is £500 per rider. (bLU cRU riders are entitled to a 20% discount), families with more than one rider attending (or friends that book together) receive 10% discount. 
SIGN ON – You will be required to reserve your place by entering your information in the 'sign on' form at the bottom of this page.
PAYMENT – Payment will be requested once your sign on is completed and your place is confirmed when the requested payment is completed by card online.
CANCELLATIONS – No refunds given for cancellations within 4 weeks of 5th April 2023
MX8 Easter Camp 
For all riders from 65cc – 450cc. ALL ABILITY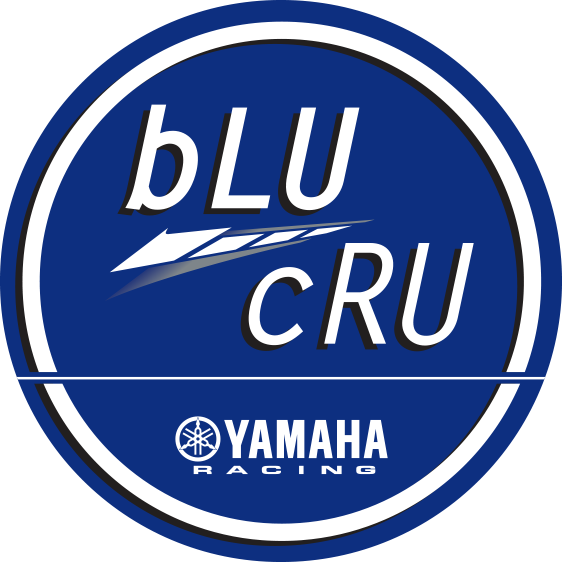 20% discount for Yamaha bLU cRU riders